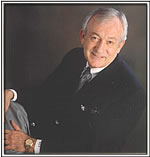 Brian Babcock, former CEO of a nationally acclaimed company, is an experienced Board member, management advisor and executive coach who offers his skills and experience to both small-business entrepreneurs and larger corporations.
As president of Babcock Coach Lines, Brian established a climate where quality performance and high levels of intrapreneurship were encouraged and generously rewarded. Most companies say they are "people" companies, but Brian created an enterprise where employees truly were recognized for new ideas and customers were willing to pay well for excellent service.
Brian's lexicon is based on the "do-it, try-it, fix-it" bias, as opposed to the "complicate-it, debate-it, and beat-it-to-death" syndrome. Under his management, his company was nominated for a business excellence award from the National Quality Institute and Industry Canada and was recognized by Human Resources Canada for Best Practices. Babcock Coach Lines was highly respected in the industry for these and other accomplishments.
Babcock Business Strategies has myriad resources to draw from to apply to your particular needs. Research assistants are available to help develop analytical and background research in your industry. Also working with Brian are specialists in business and finance, including tax specialists, specialty legal advisors and professors/advisors from the Harvard Business School.